The Pilates Method
Pilates, originally called Contrology, is a system of over 500 exercises designed to strengthen and stretch every muscle of the body, specifically focusing on the "powerhouse" – the muscles of the abdomen, back, hips and buttocks that support your spinal column and provide good posture. Working this core area releases stagnant energy, improves circulation and strengthens the internal organs, thus preventing both illness and injuries. The method has proven itself to be an extremely effective and safe workout for over 80 years. By combining six key principles – control, centering, concentration, breath, precision and flow – Pilates works not only the body, but also the mind. This mind-body connection makes Pilates more than a workout – It's a way of life.
---
Benefits of Pilates
Imagine looking AND feeling your best. Literally reshape the physical structure of your body starting with its frame. As alignment improves, so too do imbalances correct themselves, bringing your body into its best form possible. Pilates involves the entire body, creating strength, coordination and elasticity in muscle groups that for a long time may not have been used effectively, if at all. Through a logical sequence of exercises, you quickly increase muscle tone, flexibility and strength while simultaneously acquiring correct posture. The exercises are low impact to eliminate unnecessary stress and strain on your joints and organs, so your workout is safe no matter your age or fitness level.
Pilates changes not only the body, but also the mind, by working five key parts – memory, will, intelligence, intuition, and imagination. You will benefit from Pilates whether you're a complete beginner or an elite athlete, because the exercises are designed to challenge all levels. As you grow stronger, the work actually gets harder as we find new ways to challenge your body and mind.
Benefits to the Body:
Improved posture, balance and coordination
Stronger muscles, without bulk, for a long, lean and toned look
Increased flexibility
Abdominal muscles draw in & up, rather than protrude outward
Better joint stability
Elimination of compensatory weaknesses that cause chronic pain or injuries
Increased physical energy and vitality
Benefits to the Mind:
Enhanced mind-body connection and body-awareness
Complete mental control over the body
Reduced stress and anxiety
Elevated spirit and invigorated mind
A feeling of rejuvenation and increased energy
Improved memory, concentration and focus
Heightened self-awareness and self-confidence
---
History of Joseph Pilates
Joseph Pilates was born in 1883 in Mönchengladbach, near Düsseldorf, Germany. As a child, he suffered from a number of conditions including asthma, rickets, and rheumatic fever. Determined to overcome his own weaknesses, he began studying all methods of exercise including martial arts, bodybuilding, and acrobatics. He molded his body into peak form, and by the age of 14 he was fit enough to pose for anatomical charts. Over the years, he began constructing his own method of exercise, which he called "The Art of Contrology" and described as "complete coordination of body, mind, and spirit."
Joseph Pilates traveled to New York in 1925, meeting his wife Clara along the way. Together they opened a studio in New York City where he continued to teach Contrology until his death in 1967. Following Clara's death in 1979, the studio and method were passed on to Joseph Pilates' protégé, Romana Kryzanowska.
---
Romana Kryzanowska
Romana Kryzanowska, the world-renowned protégé of Joseph Pilates, taught the Pilates method for nearly six decades. Committed to carrying on Joe and Clara's life's work, Romana was responsible for training the majority of today's leading Pilates teachers. Her daughter Sari Mejia Santo, who also trained directly with Joseph and Clara Pilates, shares Romana's enduring passion for the Pilates method and has been teaching for over three decades.
For more information, visit www.romanaspilates.com.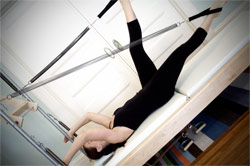 "Through Contrology you first purposefully acquire complete control of your own body and then through proper repetition of its exercises you gradually and progressively acquire that natural rhythm and coordination associated with all your subconscious activities."
— Joseph H. Pilates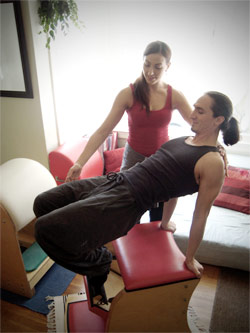 "You will develop muscular power with corresponding endurance, ability to perform arduous duties, to play strenuous games, to walk, run or travel for long distances without undue body fatigue or mental strain. And this by no means is the end."
— Joseph H. Pilates